Insolite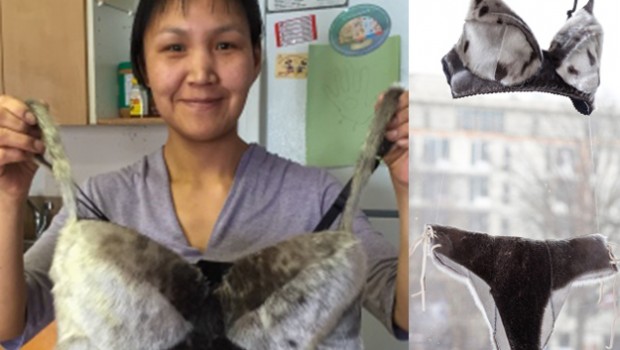 Publié le 18 mars 2016 | par Radio-Canada
0
Des couturières du Nunavut visent les vêtements sexy en peau de phoque pour le marché haut de gamme
---
Un article original de


---
[Article en anglais]
Putting sexy back in sealskin: Nunavut seamstresses aim for high-end fashion market
The natural material is used in everything from lingerie to stilettos and sold via social media
Sewing a brassiere out of sealskin wasn't Nala Peter's idea. She wants to emphasize that. It was her late partner's suggestion.
« I started laughing and I said, 'No!' But I went ahead and I made one — and I posted it. »
The sealskin bra racked up hundreds of likes on Facebook and quickly sold for $150.
Not the kind of clothing her mother used to make — kamiik (sealskin boots) or atigi (parka), meticulously sewn from skins that she chewed for ages to make them soft. But much like her mom, Peter sews for survival.
« I mainly do it for my kids. Everything I make and sell, the money goes towards my kids, » says the mother of four.
Earning income from sealskin craft work is nothing new in Nunavut, but a growing number of contemporary seamstresses are taking traditional Inuit design to a new level, putting the sexy back in sealskin by using the iconic material to create everything from lingerie to stilettos.
Peter's matching sealskin bra and panties caused a splash in the art world this winter, featured in an Ottawa art exhibit called Floe Edge: Contemporary Art and Collaborations from Nunavut. That show also included six-inch-heel shoes decorated in sealskin, designed by Nicole Camphaug.
« I work at my kitchen table and I think: Wow, there's a little place in Iqaluit — that's the only place you can get high-heel sealskin shoes, right? » says Camphaug with a joyful laugh.
Sealskin has long been essential winter wardrobe material in the North to protect people from the icy cold, but Camphaug wasn't sure how people would react when she started adorning women's high heels and men's dress shoes with sealskin.
She remembers an elder examining the high heels closely, the first time she sold her work at a local craft fair. « She bent over at my table and she was really looking at a pair of the shoes. I asked her, 'Piugivigiik?' ('Do you like them?'). And she said, 'Oh, so much!' She was just so impressed and she was saying, 'I can't figure out how you do it!' »
Camphaug has since sold hundreds of pairs of sealskin contemporary footwear, including baby shoes, pumps and flats.
Like many local seamstresses, she's embraced Facebook as a way to expand sales. Camphaug has her own page — ENB Designs — and the Iqaluit Sell/Swap page is filled with seamstresses advertising their wares. It connects them not only to buyers across Nunavut, but also with customers in Southern Canada and around the world.
« When you see it, people think, 'Wow! Inuk-made, they're using the fur, how amazing!' » says Camphaug, who has a full-time job as a protocol officer for the Nunavut government. « Sealing is very important to us so I think we need to get sealskin products out there as much as we can. »
Reviving the commercial market for sealskin products is top-of-mind in Nunavut, after anti-sealing campaigns and the European Union's ban on seal fur in 2009 caused pelt prices to collapse. Last year, the government of Nunavut negotiated an exemption from the EU ban, which allows the import of sealskin products certified as harvested by indigenous peoples.
Local seamstresses and designers hope the exemption will help grow global demand for sealskin fashion.
But Rannva Simonsen, who operates a fashion store in Iqaluit calledRannva Design, says she's already finding it tough to get her hands on enough locally harvested sealskin to meet demand. She imports many of her sealskins from as far away as Greenland.
« We can revive the sealskin industry … and get the economic life back into the communities, » says Simonsen. « The world wants the beautiful products. »
Simonsen arrived in Iqaluit from the Faroe Islands nearly 20 years ago, an architect by training who fell in love with working with sealskin.
« It's like silver, almost liquid silver, and it's a fantastic warm material, » says Simonsen. « You can embrace the cold and be all cosy and comfortable and look gorgeous at the same time. »
She now employs several local seamstresses, who make a wide range of products that wouldn't look out of place on a runway in Paris or Milan: hats, mittens, scarves, vests and full-length sealskin coats.
« There's a great market waiting to be cultivated. Now we have a little opening for Inuit-hunted seal export to Europe and I believe we can change it. With awareness about the North. »